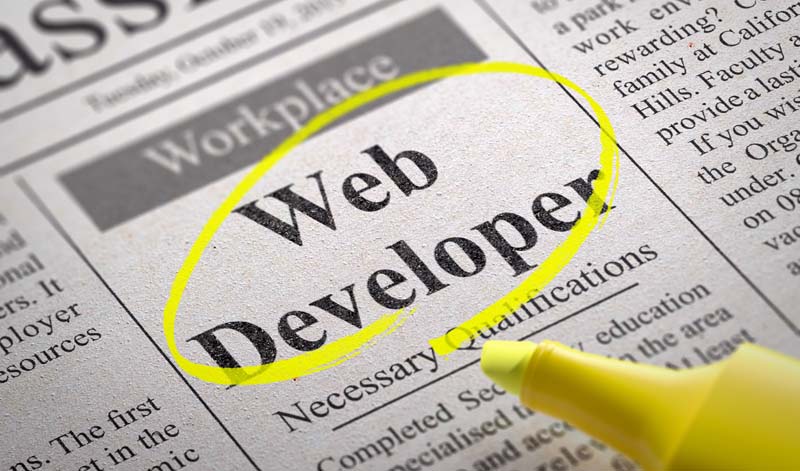 If you're looking to create a website for your business, it's important to find the right designer to help you.
Not all designers are created equal, and it's important to find someone who knows how to create a website that meets your needs and represents your business in the best possible light.
So how do you go about finding the right WordPress website designer in Newcastle?
What Is WordPress And Why For Your Website?
WordPress is a content management system (CMS) that enables you to create a website or blog from scratch, or to improve an existing website. It's free and open source software released under the GPL.
WordPress is used by millions of people around the world, including many large organisations, such as The Guardian, Forbes, and The New York Times.
WordPress allows you to create professional looking website with no monthly fees. (Exc Hosting and domain)
Note: Don't confuse the self-hosted WordPress (wordpress.org) with wordpress.com.
The Benefits Of Using WordPress On Your Website
If you're looking for an easy way to create a website or blog, WordPress.org is a great option. It's free and open source, and it's easy to use.
Here are some of the benefits of using WordPress:
1. WordPress is easy to use. You can create a website or blog in minutes, without any programming experience.
2. WordPress is SEO friendly. Your website will rank higher in search engine results pages with WordPress than with other platforms.
3. WordPress is secure. WordPress is regularly updated with security patches to protect your site from hackers and malware.
4. WordPress is customisable. You can change the look and feel of your website with themes and plugins, and add custom functionality with plugins.
5. WordPress is mobile-friendly. Whether you're using a smartphone or tablet, your users will have an easy time navigating your website.
6. WordPress is free and open source. You can download it for free from wordpress.org, and hundreds of developers around the world contribute to its development every day.
The Benefit Of Using Plugins On Your Website
Plugins are generally used to extend WordPress and make it do specific tasks once installed. Features that you may need for your business.
Some plugins are used for security and others give you access to additional features and functionality without having to do any complicated coding or programming.
They're often free or relatively inexpensive. For example, WordPress has over 50,000 different plugins available in their directory.
If the idea of installing plugins on your website seems like a hassle. Don't worry, we do all that for you. You just tell us how you want the site to function and we try to find or build a plugin that is right for your business.
Plugins That Optimise Your Site's Performance
There are a number of plug-ins that you can use to help optimise your site's performance. We use WP-Optimize.
Specific plugins can speed up the loading of your pages by caching your pages and components. It also minifies your JavaScript and CSS files, and allows for GZIP compression.
Another popular plug-in is CloudFlare. CloudFlare helps to protect your site from DDoS attacks, and improves the performance of your pages by caching them and minifying your JavaScript and CSS files.
Setting Up A Hosting Account For Your Site
Setting up a hosting account for your site is an important process that should not be taken lightly. Having your own hosting account gives you control over your website. This is what is refereed to as 'self-hosted'.
As opposed to a third party platform hosting your website. These are generally site builder type websites like WordPress.com, Shopify, Wix, Godaddy etc that offer 'easy' website building tool that have pay by the month fees.
When you buy a website from Dotupp all you have to do is tell us you don't have hosting. We take care of everything for a modest annual hosting fee.
Basics Of SEO For Small Business
As a business owner, it is important to understand the basics of SEO in order to get your website ranked higher in search engines.
Here are some tips to get you started:
1. Make sure your website is optimised for search engine crawling and indexing. This means using the right keywords in your titles, meta descriptions, and header tags, and ensuring that your website is easy to crawl with no broken links or errors.
2. Publish high-quality content that is relevant to your target audience. Not only will this help improve your website's ranking, but it will also help keep visitors engaged and coming back for more.
3. Promote your content on social media and other online platforms. By sharing your website's content on platforms such as Facebook, Twitter, and Pinterest, you will be able to reach a wider audience.
4. Build backlinks to your website by reaching out to other websites with related content and asking them if they would like to link out to your content.
You can also do this by commenting on blogs or forums that are relevant to your business.
Also find business directories to add your business to websites like these.
Conclusion
When it comes to finding the right WordPress website designer in Newcastle, there are a few things you should keep in mind.
Do they have the experience designing websites for businesses?
Do they have a process to create a website that meets your needs?
We offer some of the most competitive website solutions for any local business. Don't mess about with online web builders, get a professional team to do it for you. No headaches no hassles.
---
Start the Website Order Process
The simple step by step method for ordering a website. Displays prices as you proceed. No payment required.
Thanks, we will contact you soon
Do you have a Domain Name?
Tell us if you have a domain name already registered with another provider.
Yes - Indicates you already have a domain name registered for this site.
No - Indicates you DO NOT have a domain name registered for this site.
You need to select an item to continue
Choose a Website Package
Choose a website package to suit your needs
You need to select an item to continue
Tell us about your Business/Website
We need to ask you some questions to get a feel for your website. Take your time to answer the following questions. If you need more time you can save the form (top right) and continue later. The amount displayed at this point is the final price.
This is the name of your business. Plus write a small description of what you do and why?
Tell us about the products and services your business performs. Name and describe any product categories you have or name and describe the different services you perform.
Tell us what you do and why you're better than your competition. Why a customer should use your business. We use this information for your About Me page.
Tell us about some websites you like the look of. What about the site do you like. Name some elements you like, and why. This help us understand your design needs.
You need to select an item to continue
Great! You have a Domain Name
Please continue by entering your domain name below.
To continue please tell us your domain name.
You need to select an item to continue
That's OK! Choose some Domain Names you Prefer
Enter a list of domain names in the field below. Add them in order of preference. We check availability and choose the first domain name that is available.
A Domain name is the name you say after the www. ; eg, www.tedsplumbing.com.au
Domain Names are billed annually in advance.
You need to select an item to continue
Do You Have Web Hosting?
If you already have your own hosting account? Choose "Yes"
If you have no idea what this is then choose "No"
If you have hosting, choose Yes!
You need to select an item to continue
Please give us your hosting details
You indicated that you already have hosting. Please enter your host's details. We need this information so we can build your site.
Please provide your hosting details in the form below. Please give us your hosting provider. URL, User name and Password
You need to select an item to continue
No Problem! We can do the hosting for you
Below is the information about the fees associated with hosting.
Website Hosting is billed annually in advance. What is Hosting? Hosting is where your website lives on the internet. You are renting space on a web server for your site.
You need to select an item to continue
Add some images here
Your website will need pictures. Use the form to upload some images for your website.
Upload the most important images to your website. Logo, branding, product images, pictures of you or you team doing your thing.
You need to select an item to continue
Final cost
The final estimated price is :
Summary
| Discount : | |
| --- | --- |
| Total : | |
---
Getting a professional to build your website, is very affordable. Beautiful websites, beautiful price, that's what we're about.
Check out our Portfolio and see the quality of our work and the value that you get.