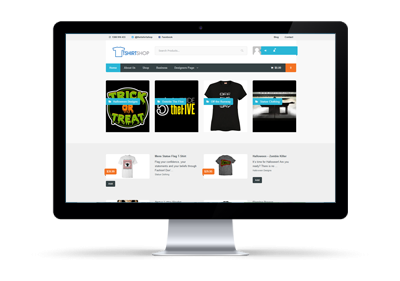 Professional E-Commerce Website
$1,799.00
Introducing Professional E-Commerce Business Websites. This is our premium package. This product includes a complete custom designed e-commerce online selling machine. It is great way to professionally sell products and services online, complete with payment processing.
Need Hosting? Check out our hosting plans.
Description
How Does it work?
Description
Let's Get Started Building Your Website
The simple step by step method for ordering a website. Displays prices as you proceed. No payment required.
Thanks, we will contact you soon
Add some images here
Your website will need pictures. Use the form to upload some images for your website.
Upload the most important images to your website. Logo, branding, product images, pictures of you or you team doing your thing.
You need to select an item to continue
No Problem! We can do the hosting for you
Below is the information about the fees associated with hosting.
Website Hosting is billed annually in advance. What is Hosting? Hosting is where your website lives on the internet. You are renting space on a web server for your site.
You need to select an item to continue
Please give us your hosting details
You indicated that you already have hosting. Please enter your host's details. We need this information so we can build your site.
Please provide your hosting details in the form below. Please give us your hosting provider. URL, User name and Password
You need to select an item to continue
Do You Have Web Hosting?
If you already have your own hosting account? Choose "Yes". If you have no idea what this is then choose "No"
If you have hosting, choose Yes!
You need to select an item to continue
Tell us about your Business/Website
We need to ask you some questions to get a feel for your website. Take your time to answer the following questions.
Tell us about the products and services your business performs. Name and describe any product categories you have or name and describe the different services you perform.
Tell us what you do and why you're better than your competition. Why a customer should use your business. We use this information for your About Me page.
This is the name of your business. Plus write a small description of what you do and why?
You need to select an item to continue
Choose the Package
Choose the website package for the Professional E-Commerce Website below.
E-commerce Package
You need to select an item to continue
No! Choose the Domain Names you Prefer
Enter a list of domain names in the field below. Add them in order of preference. We check availability and choose the first domain name that is available.
Domain Names are billed annually in advance.
A Domain name is the name you say after the www. ; eg, www.tedsplumbing.com.au
You need to select an item to continue
Do you have a Domain Name?
Tell us if you have a domain name already registered with another provider.
Indicate if you already have a domain name and you don't need to purchase a new domain name.
You need to select an item to continue
Great! You have a Domain Name
Please continue by entering your domain name below.
To continue please tell us your domain name.
You need to select an item to continue
Final cost
The final estimated price is :
Summary
| Discount : | |
| --- | --- |
| Total : | |
---
Professional E-Commerce Website
What is included in the package?
You get a Professional E-Commerce business website. This package includes a completely custom (not a template) designed e-commerce website. It's great way to professionally sell products and services online, complete with payment processing.
With over 50% OF ALL WEBSITES ONLINE using WordPress, for the price, you won't find a better development platform to run your online business.
$1799/site (one time fee)
This is a one time fee, no monthly payments. (Excludes; Domains, Hosting)
MOCK UP

1 Wire Frame Layout Design

2 Home Page Design Mock-Up

1 Products Page Design Mock-Up

Home Page Slide show Images
A wire frame is a block style drawing of your website layout. It is used to demonstrate each component of the design. Based on your wire frame, we then create design mock-ups of what your site will look like when its finished.
MOCK-UP REVISIONS

1 Wire Frame Revision Rounds

2 Home Page Revisions Rounds

1 Inner Page Revision Rounds
We make some revisions to your design. See above for package details. After we deliver your website, you may request some changes or suggestions for improvement. After we complete them for you. This represent one (1) round. Request multiple changes and adjustments in one revision round. If you have more than one change. Add them all together and submit your revision round.
DEVELOPMENT & IMPLEMENTATION

1 WordPress Installation and E-Commerce Integration

20 Plugin Installations

10 Pages Created

10 Products Added

1 Shopping Cart Integration

1 Blog Integration

2 Menu Positions

1 Subscription Opt-in Box

5 Email Addresses
Our team set up your website according to the design brief and questionnaire you submit, and the options allowed in each individual package.
CONTENT PAGE

10 Page and Product Content Integration

10 Blog Content or other Integration
This is where our guys add your content. The words, images, graphs, forms, videos, and other content that you want to offer to your customers. You must supply the content. If you need help with your content, let us know through the contact form.
PROJECT COMPLETION

Client Revisions

Site Launch

Site QA (Pre-Launch)
After site completion, we begin launch sequence.
ON-PAGE

On-Page Optimisation
Includes on page optimisation. You pages will be mobile and search friendly
SUPPORT

60 days Support and Bug Fixes
Email support and unlimited bug fixes for the number of day in the package
With over half of all website run on WordPress, it's perfect to get your business up and running.
Add this product to your shopping cart
Determine if you need hosting? Here
Go through the checkout and pay ($1799.00+hosting if required)
Fill in and return the order brief and the design questionnaire
We proceed to build your wire frame and submit for your approval
We then design your website pages and show them for approval
We then build your website online, and present for your revisions
Make all revisions and bug fixes
Your site is ready to go
We continue to tune and bug fix your website for the full support period.