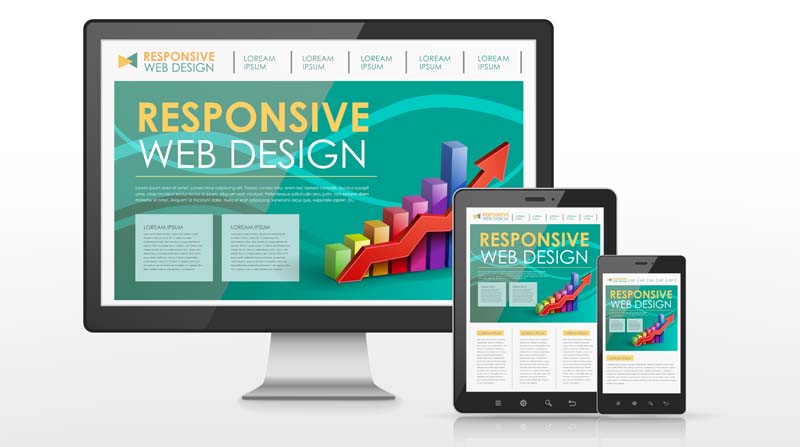 Most successful websites depend on returning visitors to make up a major part of their traffic.
Returning visitors are far easier to convert into paying customers mostly because the more often they return to a site, the more trust they will have established in that site.
As a result any credibility issue disappears.
To keep your visitors coming back to your site consider the following methods:
Responsive Design
Provide your visitor with a positive user experience, regardless of the device they use. A responsive deign changes the look of the website according to the device or screen size the customer is viewing your website on. PC, tablet or a mobile phone.
Social Media Channels
Adding social media profiles provides your visitors a place to voice their opinions and interact with you and their peers — all of them are visitors of your site. As conversations build and develop, a sense of community will follow and visitors will likely return to your site more frequently.
Start a Blog on Your Website
Create an online journal, commonly known as a blog, on your website and keep it updated daily or weekly with the latest news or developments. Fresh relevant news arouses curiosity and ensures visitors return for more. Establish credibility is easy too because you are proving to them a real life person is behind the website.
Use Polls & Surveys
Polls and surveys are excellent forms of visitor interaction to add to a site. They provide a quick an easy way for visitors to voice their opinions while also offering the possibility of data collection for later use. Publish polls or surveys strongly relevant to the target market of the website.
Puzzles, Quizzes & Games
Imagine how many office workers procrastinate at work every day, and you will easily be able to gauge how many people are available to keep visiting your site if you provide an interesting or addictive form of entertainment. Hold prize giving competitions where the high score wins to keep visitors trying continuously to earn the prize.
Update Your Website Frequently with Fresh Content
Update your site frequently with fresh content to satisfy and retain your readers. This is the most widely known and most effective method of attracting returning visitors – but its also the method least carried out mostly because of its time consuming nature..
Web visitors don't want to browse a site that looks the same year in year out, so keep updated regularly.
That's it, 5 great ways to keep your customers returning. So, are ready to start your online journey? We offer some of the most competitive website solutions for any business. Don't mess about with online web builders, get a professional team to do it for you. No headaches no hassles.
Getting a professional to build your website, is very affordable. Beautiful websites, beautiful price, that's what we're about. Check out our Portfolio and see the quality of our work and the value that you get.
---
Start the Website Order Process
The simple step by step method for ordering a website. Displays prices as you proceed. No payment required.
Thanks, we will contact you soon
Do you have a Domain Name?
Tell us if you have a domain name already registered with another provider.
Yes - Indicates you already have a domain name registered for this site.
No - Indicates you DO NOT have a domain name registered for this site.
You need to select an item to continue
Choose a Website Package
Choose a website package to suit your needs
You need to select an item to continue
Tell us about your Business/Website
We need to ask you some questions to get a feel for your website. Take your time to answer the following questions. If you need more time you can save the form (top right) and continue later. The amount displayed at this point is the final price.
This is the name of your business. Plus write a small description of what you do and why?
Tell us about the products and services your business performs. Name and describe any product categories you have or name and describe the different services you perform.
Tell us what you do and why you're better than your competition. Why a customer should use your business. We use this information for your About Me page.
Tell us about some websites you like the look of. What about the site do you like. Name some elements you like, and why. This help us understand your design needs.
You need to select an item to continue
Great! You have a Domain Name
Please continue by entering your domain name below.
To continue please tell us your domain name.
You need to select an item to continue
That's OK! Choose some Domain Names you Prefer
Enter a list of domain names in the field below. Add them in order of preference. We check availability and choose the first domain name that is available.
A Domain name is the name you say after the www. ; eg, www.tedsplumbing.com.au
Domain Names are billed annually in advance.
You need to select an item to continue
Do You Have Web Hosting?
If you already have your own hosting account? Choose "Yes"
If you have no idea what this is then choose "No"
If you have hosting, choose Yes!
You need to select an item to continue
Please give us your hosting details
You indicated that you already have hosting. Please enter your host's details. We need this information so we can build your site.
Please provide your hosting details in the form below. Please give us your hosting provider. URL, User name and Password
You need to select an item to continue
No Problem! We can do the hosting for you
Below is the information about the fees associated with hosting.
Website Hosting is billed annually in advance. What is Hosting? Hosting is where your website lives on the internet. You are renting space on a web server for your site.
You need to select an item to continue
Add some images here
Your website will need pictures. Use the form to upload some images for your website.
Upload the most important images to your website. Logo, branding, product images, pictures of you or you team doing your thing.
You need to select an item to continue
Final cost
The final estimated price is :
Summary
| Discount : | |
| --- | --- |
| Total : | |
---