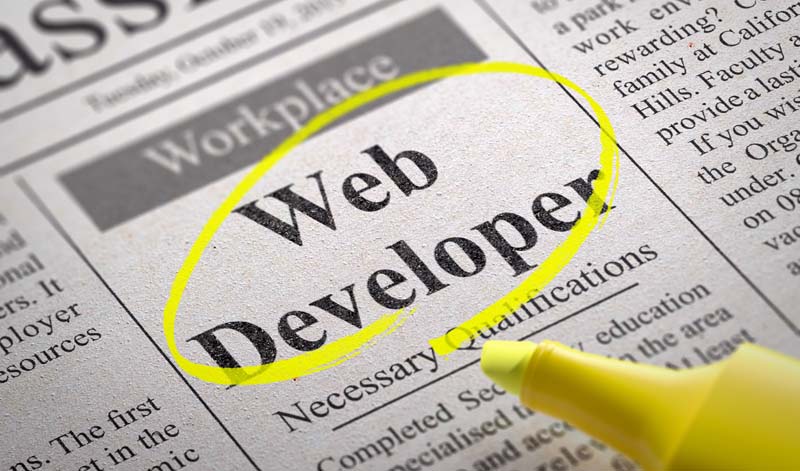 Searching for a Professional Web Developer?
There are so many different website design services available that it can be hard to know which one to choose.
If you've been searching for a designer you've probably seen the hundreds of companies all promising to be the best. It can be quite overwhelming.
Your website is your baby, your business, your income. It's important to hire a developer that will not only work for you, but also with you.
A good design service will take your ideas and visions and turn them into reality.
Web developers specialise not only in online design but also in search promotion. They can help you to build your new site from scratch, or can help you to update and perfect your existing site design.
Launching your business online can give you an edge over the competition. This can help you to gain new customers and will help your business grow.
Even if you are tight on a budget, it is imperative to find a way to create a online presence for your business.
You need a website package with easy to use content management tools to build an asset that fronts a professional face and becomes a useful marketing tool for your business.
Affordable Website Design
When choosing a website design provider, consider what the design package include – are you getting value for your money? The packages could include features such as:
Domain name and hosting
The ability to edit the site content
Additional pages of SEO content and a blog, with or without images
Integration of social media platforms, enquiry forms and other interaction with your clients
Google maps locator
Navigation menu
Animation slides, logo
Search Engine Submission
A web design provider groups any of these features into a package, therefore you have the option of choosing what you feel is appropriate for you as you create your own website.
Be on the lookout for discounted features and any free services on offer with the packages.
Mobile Responsive Websites
Good website developers will make sure that your site is optimised for all of the different types of devices that people are using now days.
They can create an interactive website for you that can be just as easily navigated with a smart phone or tablet as it can be with a desk top computer.
Most people who do not use professional design services are only able to create basic websites using online web builders.
These types of sites are difficult to navigate for people who are using devices that have touch screens and need horizontal scrolling.
Designing a website takes knowledge and skill. Most people don't know how to go about creating, designing, and launching their sites let alone promoting them.
Benefits of keeping website hosting within the same business
When you identify your ideal provider, you will find that there are many benefits to making the company your first choice for web hosting management solutions.
One advantage of this arrangement is that either of the services could be a value added service on your package.
Note: Web server management requires some degree of skill that you may lack, and it makes little sense to engage a web developer and another company separately for the web hosting, when one can do both at a lesser cost.
Additionally, it is easier for you to manage your website and upgrade servers through the first company you hired without getting additional help from another service provider.
---
Want to go ahead with us?
Do you need help with a new or current website? We offer some of the most competitive online solutions for any local business. Don't mess about with do-it-yourself web builders, get a professional team to do it for you. No headaches no hassles.
Getting a professional to build your web property, is very affordable. Beautiful designs, beautiful price, that's what we're about. Check out our Portfolio and see the quality of our work and the value you get.
If you have any questions or need help with any aspect of your online business, you can contact us for professional advice on all your business needs.
If you want to get a website, get started with our online questionnaire.
Start the Website Order Process
The simple step by step method for ordering a website. Displays prices as you proceed. No payment required.
Thanks, we will contact you soon
Do you have a Domain Name?
Tell us if you have a domain name already registered with another provider.
Yes - Indicates you already have a domain name registered for this site.
No - Indicates you DO NOT have a domain name registered for this site.
You need to select an item to continue
Choose a Website Package
Choose a website package to suit your needs
You need to select an item to continue
Tell us about your Business/Website
We need to ask you some questions to get a feel for your website. Take your time to answer the following questions. If you need more time you can save the form (top right) and continue later. The amount displayed at this point is the final price.
This is the name of your business. Plus write a small description of what you do and why?
Tell us about the products and services your business performs. Name and describe any product categories you have or name and describe the different services you perform.
Tell us what you do and why you're better than your competition. Why a customer should use your business. We use this information for your About Me page.
Tell us about some websites you like the look of. What about the site do you like. Name some elements you like, and why. This help us understand your design needs.
You need to select an item to continue
Great! You have a Domain Name
Please continue by entering your domain name below.
To continue please tell us your domain name.
You need to select an item to continue
That's OK! Choose some Domain Names you Prefer
Enter a list of domain names in the field below. Add them in order of preference. We check availability and choose the first domain name that is available.
A Domain name is the name you say after the www. ; eg, www.tedsplumbing.com.au
Domain Names are billed annually in advance.
You need to select an item to continue
Do You Have Web Hosting?
If you already have your own hosting account? Choose "Yes"
If you have no idea what this is then choose "No"
If you have hosting, choose Yes!
You need to select an item to continue
Please give us your hosting details
You indicated that you already have hosting. Please enter your host's details. We need this information so we can build your site.
Please provide your hosting details in the form below. Please give us your hosting provider. URL, User name and Password
You need to select an item to continue
No Problem! We can do the hosting for you
Below is the information about the fees associated with hosting.
Website Hosting is billed annually in advance. What is Hosting? Hosting is where your website lives on the internet. You are renting space on a web server for your site.
You need to select an item to continue
Add some images here
Your website will need pictures. Use the form to upload some images for your website.
Upload the most important images to your website. Logo, branding, product images, pictures of you or you team doing your thing.
You need to select an item to continue
Final cost
The final estimated price is :
Summary
| Discount : | |
| --- | --- |
| Total : | |