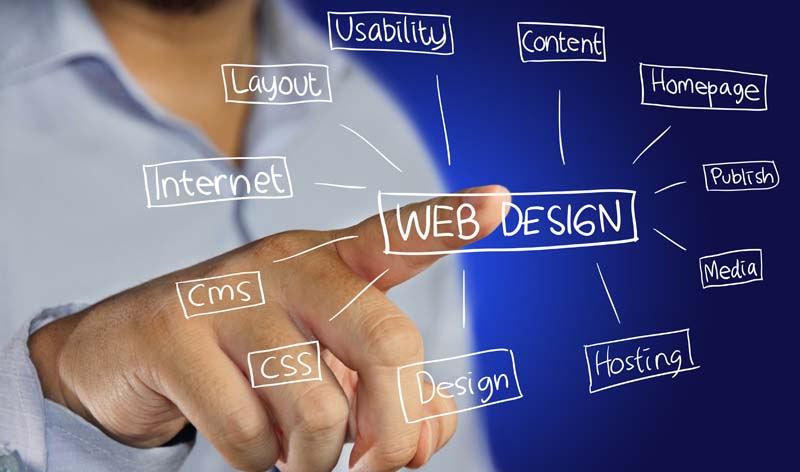 5 Good Reasons Why You Need a Website
Have you ever searched for a specific local business online, only to find a number of listings on other sites except the one you were searching for?
It's hard to believe, but there are still thousands of brick and mortar businesses that haven't created their own website and therefore have no presence online.
It's not just about keeping up with all the other local businesses – there are huge profit and customer relationship benefits attached to having a website online.
1. Increased visibility
Even though local businesses are offline, increasingly, their customers are online. In today's mobile and internet based world being visible only from street level, that is, when customers walk down the street or drive by, these businesses are invisible the rest of the time.
However, people spend a huge amount of time online, whether it is on their computer, smart phone, laptop or tablet. These days they search for information online, not by driving or walking down the street.
2. Communication & Customer Relationships
A website provides the business owner a venue for collecting email addresses and other customer details, which are vital tools for communication and relationship building.
Most people check their email frequently. Instead of spending money on print and media advertising, it's much cheaper and economic to send customers special offers, discounts or promotion details via email.
At the same time, email can be used to build a relationship with customers by offering other tips and advice, training information or product and service information.
3. Build Brand Awareness Online
Having your own website means you have complete control. Most businesses use their web property to create and promote their brand image. Everything from site design to the content and interaction that occurs there builds and reinforces an image to portray to a wider business audience.
Think of it this way: A website is a dynamic billboard which the whole world can see and interact with.
4. Social Credibility
Consumers and Shoppers make purchasing decisions based on recommendations more than any other factor. By including testimonials from customers, businesses are able to offer the proof that prospective buyers need.
Another way to influence purchasing decisions is through Ratings and reviews – although they can be more difficult to control.
5. Global Reach
As a local business, you have a limited prospect and customer base. Of course this suits many business operators who have a product or service suited solely to local markets.
However, once a business goes online, the potential for more sales is limited only by shipping logistics and the cost viability of it.
Of course it's certainly possible to survive purely as a local business, but the potential to grow and prosper is far greater by having a web presence also.
It comes down to being visible to customers and prospects in the place where they spend much of their time – the Internet.
Open up your business to a whole new market today!
What do I do next…?
Do you need help with a new or current website? We offer some of the most competitive website solutions for any local business. Don't mess about with online web builders, get a professional team to do it for you. No headaches no hassles.
Getting a professional to build your website, is very affordable. Beautiful websites, beautiful price, that's what we're about. Check out our Portfolio and see the quality of our work and the value that you get.
Give us a call or get in touch via our contact form if you need an honest assessment of your website. We're here to help with any website relate problem.
---
Start the Website Order Process
The simple step by step method for ordering a website. Displays prices as you proceed. No payment required.
Thanks, we will contact you soon
Do you have a Domain Name?
Tell us if you have a domain name already registered with another provider.
Yes - Indicates you already have a domain name registered for this site.
No - Indicates you DO NOT have a domain name registered for this site.
You need to select an item to continue
Choose a Website Package
Choose a website package to suit your needs
You need to select an item to continue
Tell us about your Business/Website
We need to ask you some questions to get a feel for your website. Take your time to answer the following questions. If you need more time you can save the form (top right) and continue later. The amount displayed at this point is the final price.
This is the name of your business. Plus write a small description of what you do and why?
Tell us about the products and services your business performs. Name and describe any product categories you have or name and describe the different services you perform.
Tell us what you do and why you're better than your competition. Why a customer should use your business. We use this information for your About Me page.
Tell us about some websites you like the look of. What about the site do you like. Name some elements you like, and why. This help us understand your design needs.
You need to select an item to continue
Great! You have a Domain Name
Please continue by entering your domain name below.
To continue please tell us your domain name.
You need to select an item to continue
That's OK! Choose some Domain Names you Prefer
Enter a list of domain names in the field below. Add them in order of preference. We check availability and choose the first domain name that is available.
A Domain name is the name you say after the www. ; eg, www.tedsplumbing.com.au
Domain Names are billed annually in advance.
You need to select an item to continue
Do You Have Web Hosting?
If you already have your own hosting account? Choose "Yes"
If you have no idea what this is then choose "No"
If you have hosting, choose Yes!
You need to select an item to continue
Please give us your hosting details
You indicated that you already have hosting. Please enter your host's details. We need this information so we can build your site.
Please provide your hosting details in the form below. Please give us your hosting provider. URL, User name and Password
You need to select an item to continue
No Problem! We can do the hosting for you
Below is the information about the fees associated with hosting.
Website Hosting is billed annually in advance. What is Hosting? Hosting is where your website lives on the internet. You are renting space on a web server for your site.
You need to select an item to continue
Add some images here
Your website will need pictures. Use the form to upload some images for your website.
Upload the most important images to your website. Logo, branding, product images, pictures of you or you team doing your thing.
You need to select an item to continue
Final cost
The final estimated price is :
Summary
| Discount : | |
| --- | --- |
| Total : | |