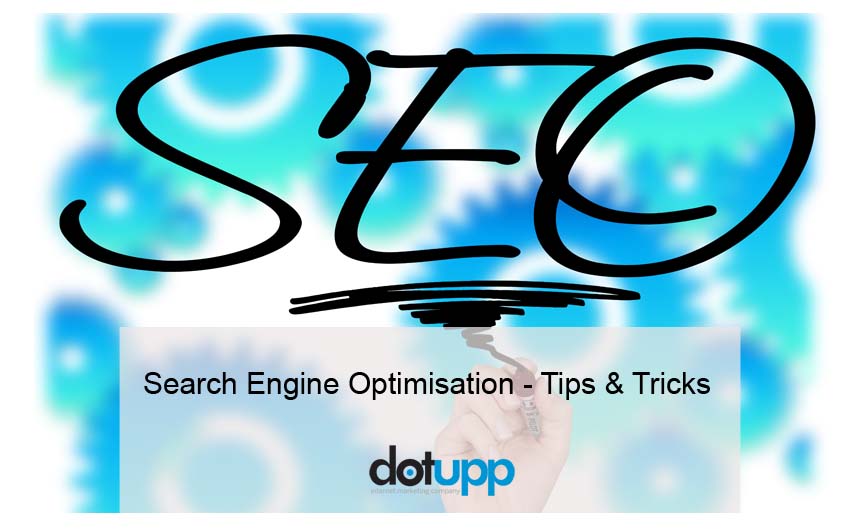 As most business owners will know, a major source of traffic for most sites on the Internet is via search engines like Google, Yahoo!, Bing and so on.
Designing a search engine friendly site will mean the ability to rank easily in search engines and generate more visitors.
At dotupp we start each project with the major search providers in mind, and build each site to maximise your chances of being found online.
Being Found Online – How Do We Do That?
The first thing we do is build all our sites with WordPress. The search engines love WordPress, as it is the leading content management system on the internet.
The second thing we do is use a popular plugin (software) that is easy for you to control. And easy for the search engines to see when they come and visit your website.
We set up these basic details when we first build your site.
How Do The Search Engines Work?
All the major search engines use programs called crawlers or robots to visit or 'index' websites for listing on their search result pages.
These crawlers and robots follow the links on your pages, and read the available content and record it in their own database. They use this data when retrieving the listing as people search for it.
This is why the details you provide on each page of your website, will tell the search engines what that page is about. This is the most important thing if you want to get found online.
SEO Page Optimisation
SEO page optimisation is the process of improving the visibility and ranking of a website or web page in search engine results pages (SERPs).
There are a number of factors that can affect a website's SEO ranking, including the quality and relevance of its content, its use of keywords and keyword phrases, and the manner in which it is designed and coded.
There are a number of things that you can do to optimise your website for SEO, including:
On-Page Optimisation Tips
We use Meta tags on each and every page of your site so that search engine robots know at first glance what that particular page is about and whether to index it or not.
Our plugin will ask for 3 things (Meta tags)
Page Title (Very specificity what your page is about in a maximum of 50-60 characters long)
Focus Keyword (a search term – 1-2 keywords or key phrase)
Page Description (Long description of your page and why someone should visit your page – up to 120 characters long)
Using meta tags makes the search engine robot's job easier and allows for the crawl and index of your site more frequently.
Pro Tip: Use CSS (Cascading Style Sheets) instead of HTML. CSS is more effective and efficient and can eliminate redundant HTML tags resulting in making pages much lighter and faster to load.
Write Relevant Content
Make sure that your website's content is high quality and relevant to your target audience.
To make sure that your website's content is high quality and relevant to your target audience, you should:
Make sure that all of your content is original and well-written.
Research your target audience and make sure that your content is relevant to them.
Use keyword research to determine which keywords are most relevant to your target audience and make sure to include them in your content.
Promote your content through social media and other channels to reach as many people as possible.
Regularly update your content to keep it fresh and relevant.
What To Avoid Doing To Your Website
To have a website indexed easily, avoid the use of frames as these will only confuse search engine robots with the possibility they might even abandon your site because of it.
In addition, frames make it difficult for users to bookmark a specific page on your site.
Avoid the presentation of important information in either Flash movies images.
Pro Tip: Search engine robots only read text within a websites page source code so if you present important words in Flash movies and images rather than in text form, your search engine ranking will be greatly affected.
Need Help Optimising Your Website for Search?
Our development team can help you with all kinds of on-page tactics to help get better results online. Choose a development hourly pack for all kinds of help with your search results.
Results are not always guaranteed as we have no control over each companies search results. Sometime customers have used overseas SEO agency's that have done some shady tactics, and site owners have received penalties for that.
Get in contact with us to see if we can help you get better noticed online.
We offer some of the most competitive website solutions for any local business. Don't mess about with online web builders, get a professional team to do it for you. No headaches no hassles.
---
Start the Website Order Process
The simple step by step method for ordering a website. Displays prices as you proceed. No payment required.
Thanks, we will contact you soon
Do you have a Domain Name?
Tell us if you have a domain name already registered with another provider.
Yes - Indicates you already have a domain name registered for this site.
No - Indicates you DO NOT have a domain name registered for this site.
You need to select an item to continue
Choose a Website Package
Choose a website package to suit your needs
You need to select an item to continue
Tell us about your Business/Website
We need to ask you some questions to get a feel for your website. Take your time to answer the following questions. If you need more time you can save the form (top right) and continue later. The amount displayed at this point is the final price.
This is the name of your business. Plus write a small description of what you do and why?
Tell us about the products and services your business performs. Name and describe any product categories you have or name and describe the different services you perform.
Tell us what you do and why you're better than your competition. Why a customer should use your business. We use this information for your About Me page.
Tell us about some websites you like the look of. What about the site do you like. Name some elements you like, and why. This help us understand your design needs.
You need to select an item to continue
Great! You have a Domain Name
Please continue by entering your domain name below.
To continue please tell us your domain name.
You need to select an item to continue
That's OK! Choose some Domain Names you Prefer
Enter a list of domain names in the field below. Add them in order of preference. We check availability and choose the first domain name that is available.
A Domain name is the name you say after the www. ; eg, www.tedsplumbing.com.au
Domain Names are billed annually in advance.
You need to select an item to continue
Do You Have Web Hosting?
If you already have your own hosting account? Choose "Yes"
If you have no idea what this is then choose "No"
If you have hosting, choose Yes!
You need to select an item to continue
Please give us your hosting details
You indicated that you already have hosting. Please enter your host's details. We need this information so we can build your site.
Please provide your hosting details in the form below. Please give us your hosting provider. URL, User name and Password
You need to select an item to continue
No Problem! We can do the hosting for you
Below is the information about the fees associated with hosting.
Website Hosting is billed annually in advance. What is Hosting? Hosting is where your website lives on the internet. You are renting space on a web server for your site.
You need to select an item to continue
Add some images here
Your website will need pictures. Use the form to upload some images for your website.
Upload the most important images to your website. Logo, branding, product images, pictures of you or you team doing your thing.
You need to select an item to continue
Final cost
The final estimated price is :
Summary
| Discount : | |
| --- | --- |
| Total : | |
---
Getting a professional to build your website, is very affordable. Beautiful websites, beautiful price, that's what we're about.
Check out our Portfolio and see the quality of our work and the value that you get.