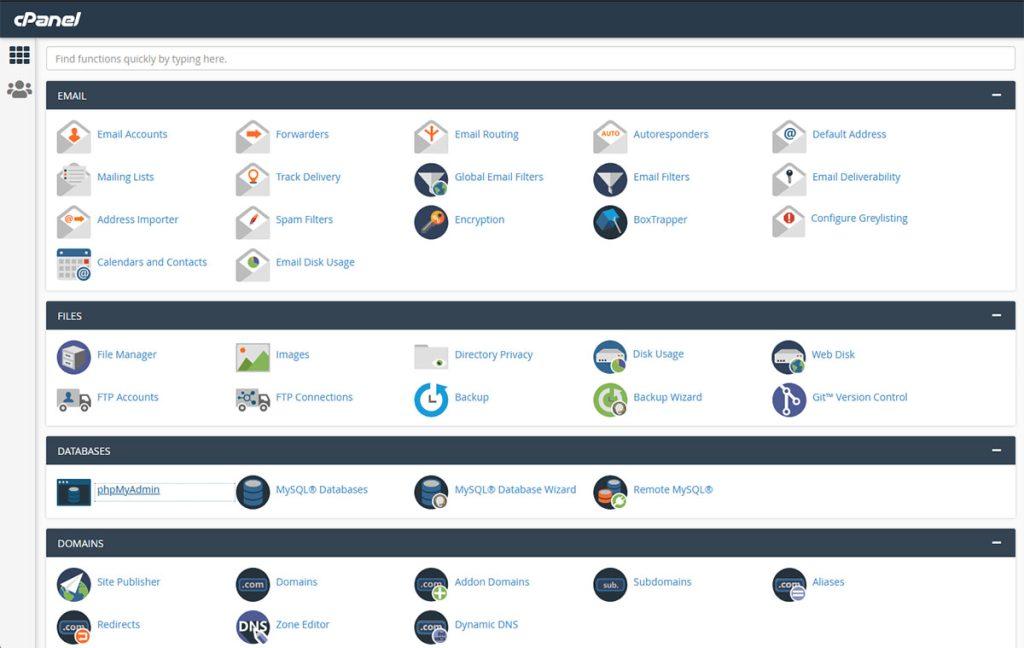 Host files are important for your computer's security and performance. Here we will discuss 7 features that make managing your host files using cPanel easy.
Manage your Hosting Files With These CPanel Features
Most of our website hosting packages are controlled by the CPanel program.
CPanel is an easy-to-use customer-interface website that allows you to control many aspects of your host account from a single dashboard.
This means that instead of having to log into multiple locations to edit the host file settings, you can simply go to your cPanel and make all necessary changes in one place.
The main feature of this operating system is that it is so simple to use even for beginners with only basic computing knowledge.
Most browsers such as MSEdge, Opera, Firefox, and Chrome all support CPanel.
Some of the features embedded into CPanel are listed below.
1. Site Tools
There are such tools available for your use, which are Web Protect (.htaccess editor), Custom error pages, Redirects.
It gives you the Ability to edit MIME types, Ability to edit Apache handlers, Install/Uninstall FrontPage Extensions, Search engine tool submitter plus File Manager.
2. Email
The email program provides the ability to add, remove, and change passwords while managing email accounts while Webmail, Auto responders, Forwarders, Mailing Lists, and Spam filtering is also catered for.
3. Backup
Backup allows you to create copies of account files and databases in case something goes wrong.
This makes it easier to recover files if something does happen and can save you a lot of time.
The backup menu allows you to access any automatic backups that were downloaded by the CPanel administrator.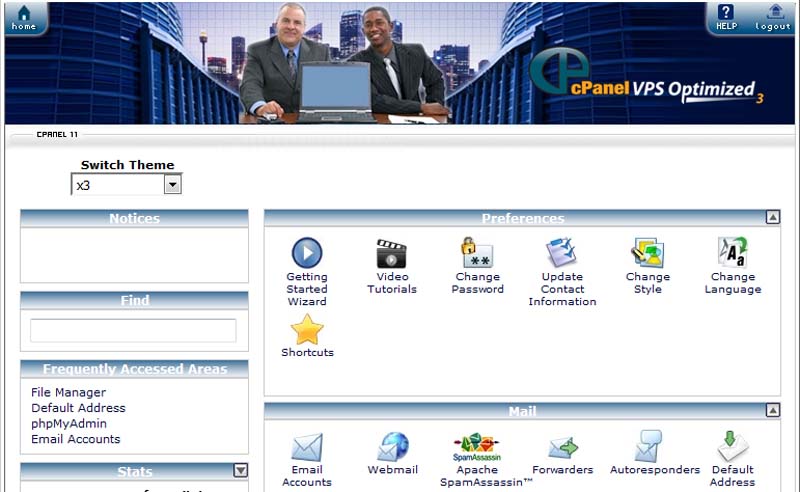 CPanel gives you the ability to change the theme design
4. Stats
There are different tools to analyse your site's popularity and efficiency. Those are Webalizer web stats, Webalizer FTP stats, Analog stats, AWStats, View latest visitors, View bandwidth usage and View error log modules.
4. FTP
A FTP (File Transfer Protocol) module exists to control FTP accounts (add, remove, and change passwords for its access), Anonymous FTP controls; the Ability to change FTP login messages and the Ability to kill FTP sessions.
5. File management
It has an easy-to-use file management system. You can easily organize your host files and make sure they are organized the way you want them to be. This makes it easier to find specific files when you need them.
It also has a built-in file editor that makes it easy to modify and delete host files. This eliminates the need for additional software or applications in order to manage your host files.
6. Search Function
Sixth, cPanel has a powerful search feature that allows you to quickly find the host file you need.
This can be especially helpful if you're looking for a specific type of file or want to locate an old version of a certain host file.
7. Advanced Stuff
Access control settings can be configured so that only certain IPs or users can access specific host files. This makes it easy to protect sensitive data and also to make sure that only the people who need access have it.
cPanel has a feature called Secure File Transfer Protocol (SFTP). This allows for secure file transfers between systems without having to worry about security risks.
This is great for businesses that need to transfer files between multiple locations without having to worry about data being compromised.
You have the ability to add or remove subdomains, Subdomain Redirects and their Stats.
Advanced Tools
A selection of tools exists for the advanced-level user.
If you want to Hire Our Developers to complete small tasks for you, this package might suit you.
When we develop your website using WordPress, a lot of these tools can be integrated into your WordPress administrator panel.
What to do next?
We offer some of the most competitive website solutions for any local business. Don't mess about with online web builders, get a professional team to do it for you. No headaches no hassles.
---
Start the Website Order Process
The simple step by step method for ordering a website. Displays prices as you proceed. No payment required.
Thanks, we will contact you soon
Do you have a Domain Name?
Tell us if you have a domain name already registered with another provider.
Yes - Indicates you already have a domain name registered for this site.
No - Indicates you DO NOT have a domain name registered for this site.
You need to select an item to continue
Choose a Website Package
Choose a website package to suit your needs
You need to select an item to continue
Tell us about your Business/Website
We need to ask you some questions to get a feel for your website. Take your time to answer the following questions. If you need more time you can save the form (top right) and continue later. The amount displayed at this point is the final price.
This is the name of your business. Plus write a small description of what you do and why?
Tell us about the products and services your business performs. Name and describe any product categories you have or name and describe the different services you perform.
Tell us what you do and why you're better than your competition. Why a customer should use your business. We use this information for your About Me page.
Tell us about some websites you like the look of. What about the site do you like. Name some elements you like, and why. This help us understand your design needs.
You need to select an item to continue
Great! You have a Domain Name
Please continue by entering your domain name below.
To continue please tell us your domain name.
You need to select an item to continue
That's OK! Choose some Domain Names you Prefer
Enter a list of domain names in the field below. Add them in order of preference. We check availability and choose the first domain name that is available.
A Domain name is the name you say after the www. ; eg, www.tedsplumbing.com.au
Domain Names are billed annually in advance.
You need to select an item to continue
Do You Have Web Hosting?
If you already have your own hosting account? Choose "Yes"
If you have no idea what this is then choose "No"
If you have hosting, choose Yes!
You need to select an item to continue
Please give us your hosting details
You indicated that you already have hosting. Please enter your host's details. We need this information so we can build your site.
Please provide your hosting details in the form below. Please give us your hosting provider. URL, User name and Password
You need to select an item to continue
No Problem! We can do the hosting for you
Below is the information about the fees associated with hosting.
Website Hosting is billed annually in advance. What is Hosting? Hosting is where your website lives on the internet. You are renting space on a web server for your site.
You need to select an item to continue
Add some images here
Your website will need pictures. Use the form to upload some images for your website.
Upload the most important images to your website. Logo, branding, product images, pictures of you or you team doing your thing.
You need to select an item to continue
Final cost
The final estimated price is :
Summary
| Discount : | |
| --- | --- |
| Total : | |
---
Getting a professional to build your website, is very affordable. Beautiful websites, beautiful prices, that's what we're about.
Check out our Portfolio and see the quality of our work and the value that you get.